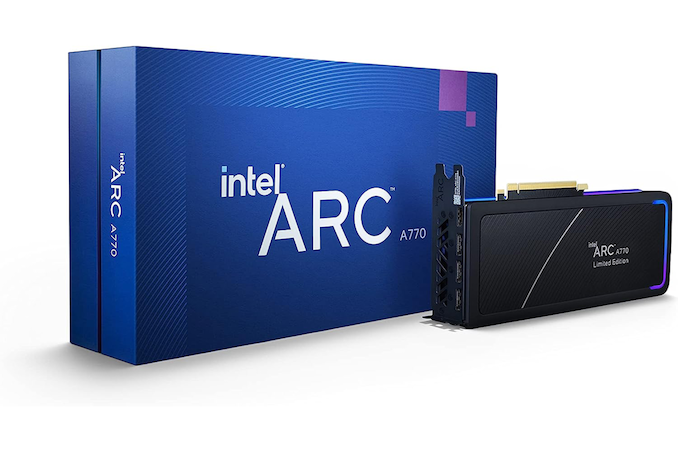 In a rather unexpected move, Intel this week discontinued its Arc A770 Limited Edition graphics card, which was its flagship discrete graphics offering for desktops. Intel's partners will continue to offer their Arc A770 add-in-boards (AIBs) with 8 GB and 16 GB of GDDR6 memory.
Intel discontinues its Arc A770 Limited Edition graphics card rather abruptly: the company listed June 20, 2023 as the last product order date and the last product shipment date, which essentially means that it no longer produces and ships these boards. As soon as the remaining stock of these products will be depleted in the channel, they will no longer be available. Apparently, the product was a Limited Edition indeed since it is being EOLed less than a year on the market.
A quick check at Amazon and Newegg reveals that the Arc A770 LE board is available for as much as $497.35 at Amazon and is no longer available at Newegg. Meanwhile, Newegg has three CPU + A770 graphics cards bundles containing Acer's Predator BiFrost Arc A770 16 GB AIBs. Separately, this board costs $339 at Newegg.
Intel's own Arc A750 Limited Edition and Arc A770 Limited Edition graphics cards were meant to bring the audience the best experience possible with an all-new GPU family. In addition, they demonstrated that Intel wanted its Arc A700-series products to compete for the mainstream market segment without using fancy and huge cooling systems. Indeed, Intel's own Arc A750 LE and Arc A770 LE boards look very modest, yet provided everything that the company's ACM-G10 GPU had to offer in terms of performance and functionality.
By now, there are Intel Arc A770 graphics cards from numerous AIB producers, including ASRock, Acer, Gigabyte, Gunnir, MSI, and Sparkle, so Intel does not really need to offer its own cards to ensure that its top-of-the-line product is present on the market.
Interestingly, but Intel's Arc A750 Limited Edition graphics cards remains afloat for now. Perhaps, while Intel still has these boards in its own stock.
Source: Intel