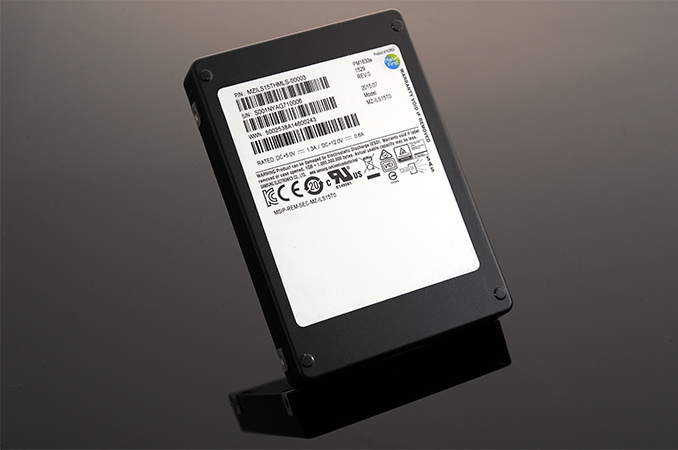 Samsung started to ship its PM1633a SSD with 15.36 TB capacity to select customers in March and recently it began to supply the drive to select resellers as well. The enterprise-class SSD is now offered by two U.S.-based retailers and can be purchased for ~$10,000, which makes it one of the world's most expensive commercial solid-state drives. Meanwhile, Samsung officially expanded its PM1633a family of SSDs with many lower-capacity models and has begun to ship the 7.68 TB version to at least one reseller.
The Samsung PM1633a drives are based on the company's third-generation 256 Gb TLC 3D V-NAND memory chips introduced last year. Samsung stacks 16 of such ICs to form a single 512 GB package and then uses 32 of them to build its flagship 15.36 TB SSD, leaving about 1 TB of NAND flash for overprovisioning. Typically, high-capacity SSDs do not provide very high performance, because of peculiarities of their internal architecture and limitations of contemporary controllers (which cannot simultaneously access many high-density chips, or multiple controllers in a RAID-0 stripe configuration). To speed up its most spacious PM1633a drive, Samsung had to develop a new proprietary controller that can concurrently access large amounts of high-density NAND flash with the help of a special firmware. For its flagship PM1633a 15.36 TB SSD, the manufacturer declares sequential read performance up to 1200 MB/s as well as sequential write performance up to 900 MB/s using the SAS-12Gbps interface. As for random read and write operations, the 15.36 TB SSD can deliver up to 195,000 and 31,000 IOPS respectively (which is slightly lower than the company advertised back in March).
When Samsung announced its PM1633a SSD earlier this year, it only introduced one model with 15.36 TB capacity. Since then, the company has officially expanded the PM1633a family with 480 GB, 960 GB, 1.92 TB, 3.84 TB and 7.68 TB models (see flyer for details). The expansion of the lineup demonstrates Samsung's confidence that its third-generation V-NAND TLC memory is reliable enough for enterprise usage scenarios. In fact, the PM1633a series consists of six SKUs, whereas the PM1633 family based on the second-gen 32-layer V-NAND includes only four configurations (up to 3.8 TB capacity, but they are faster than the PM1633a). Both lineups are aimed at enterprise storage applications with SAS 12Gbps interface.
Samsung PM1633a SSD General Specifications
Capacity
480 GB, 960 GB, 1.92 TB, 3.84 TB, 7.68 TB, 15.36 TB
Controller
Samsung proprietary controller
NAND
Samsung's 256 Gb 48-layer TLC NAND
DRAM Cache
up to 16 GB DDR3 SDRAM (15.36 TB model)
Sequential Read
1200 MB/s
Sequential Write
900 MB/s
Random Read
up to 195,000 IOPS (15.36 TB model)
Random Write
up to 31,000 IOPS (15.36 TB model)
Power Consumption (active/idle)
11W/4.5W (15.36 TB model)
MTBF
2,000,000 hours
Endurance
1 DWPD (Drive Writes Per Day)
Power Loss Protection
Based on tantalum capacitors
Warranty
5 Years
Interface and Form-Factor
2.5"/15mm SAS-12 Gbps (15.36 TB model)
Back in March, Samsung only began to ship its PM1633a to select clients. We suspect that these clients are those that run large cloud data centers, and require such drives to run their specific workloads. Now,the manufacturer has started to ship its flagship SAS SSD to a broader range of customers. For example, the Samsung PM1633a 15.36 TB drive (MZILS15THMLS) is now offered by CDW for $10,311.99 as well as by SHI for $9,690 on preorder. Both retailers ask to contact them for actual availability, depending on when stock is available (which is not surprising, given the price of the SSD as well as its very special positioning). In addition, CDW also offers the PM1633a 7.68 TB (MZILS7T6HMLS) drive for $5,729.99, which ships within 11–13 days.
The price of Samsung's PM1633a 15.36 TB SSD may seem excessive, but for large cloud data centers (which always try to maximize their storage capacity) as well as mission-critical storage applications such drives make a lot of sense. For example, Supermicro has 2U machines that can fit in 48 SAS3/12G storage devices (1, 2). Each of such servers can store 737.28 TB of data (if fully populated with Samsung's 15.36 TB SSDs), whereas storage capacity of a 42U cabinet featuring 21 of such servers will be 15482 TB (15.4 PB). By contrast, a standard 42U storage rack featuring 360 3.5" 10 TB hard drives can store around 3600 TB. Moreover, given very high sequential and random read/write performance of the PM1633a, just one such device can substitute many 10K or 15K mission-critical HDDs (each of which can cost $400 – $700). Hence, there will be numerous customers interested in buying the Samsung PM1633a 15.36 TB for its price-point.

Sources: Samsung, CDW (via PC World), SHI.
Other Reading:
The Samsung 850 EVO 4TB SSD Review
Samsung's 850 EVO 4TB Now Available at $1500