GIGABYTE Z490I Aorus Ultra BIOS
The firmware on the GIGABYTE Z490I Aorus Ultra uses a black and orange contrasting theme, with white text and dark orange highlights. The firmware itself has two primary modes, Easy mode and the advanced mode which users can access by pressing the F2 key.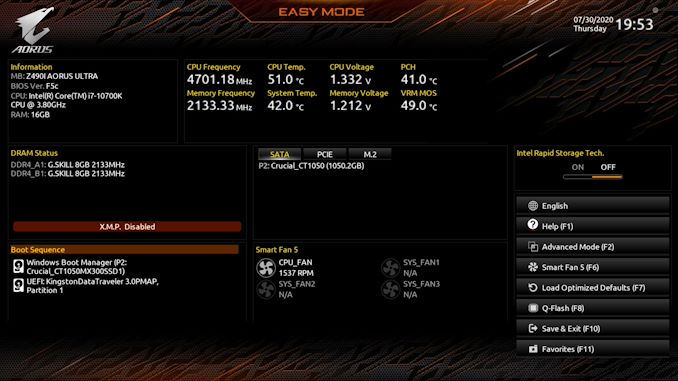 Upon first boot and entering the BIOS, the Easy Mode displays an essential list of information including the version of the firmware being used, the installed processor, as well as information pertaining to the CPU frequency, temperatures and basic voltages. To the bottom left-hand corner, users can change the boot sequence order, while the right-hand side displays a list of menus which can be accessed by pressing the corresponding key.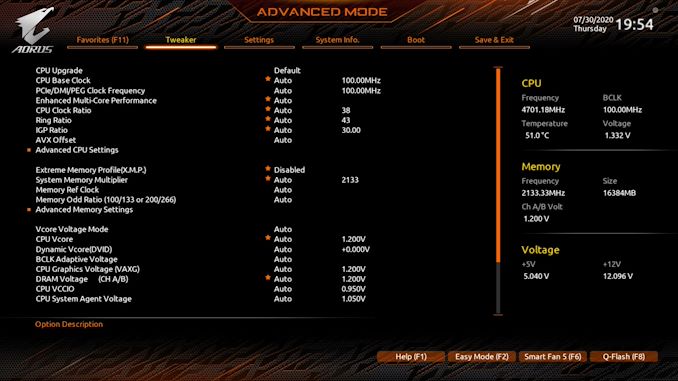 In the advanced mode, users can tweak and perform overclocks on both the CPU and memory, as well as access more intricate parts including GIGABYTE's Smart Fan 5 utility and chipset related options. There's plenty of options for users to get to grips with including an extensive list of CPU and memory frequency, memory latency and voltage settings. Other options included within the firmware also stretch to integrated graphics frequency, as well as settings for changing the ring and base-clock frequencies. For enthusiasts, GIGABYTE includes power-related options for Intel's VF Curve and power profiles, as well as settings to change the power delivery and load-line calibration settings for tighter or slacker VDroop control.
The GIGABYTE Aorus firmware in itself is easy to navigate and use, although the menus are quite stacked and somewhat cramped. This can be intimidating for users without much in the way of organization of the Tweaker menu and opts to just list all of the settings, as opposed to placing them in individual sections for CPU, memory and voltages. GIGABYTE is consistent with its firmware and it is responsive and intuitive.
GIGABYTE Z490I Aorus Ultra Software
All of GIGABYTE's software package revolves around the Aorus App Center which adds as a central hub for all of its software offerings. It also provides access to a multitude of Windows-related settings including power options, network settings, and the integrated Windows Firewall.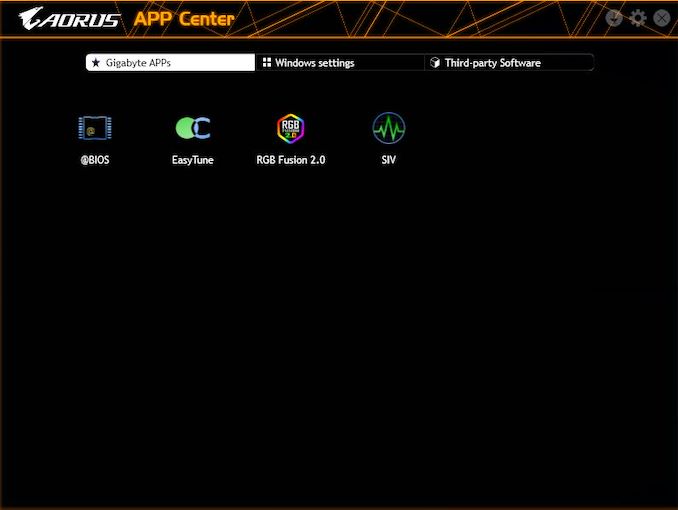 Some of the most notable inclusions with the Z490I Aorus Ultra include the @BIOS firmware updating application, the EasyTune software, GIGABYTE's RGB Fusion 2.0, and the System Information Viewer or SIV software.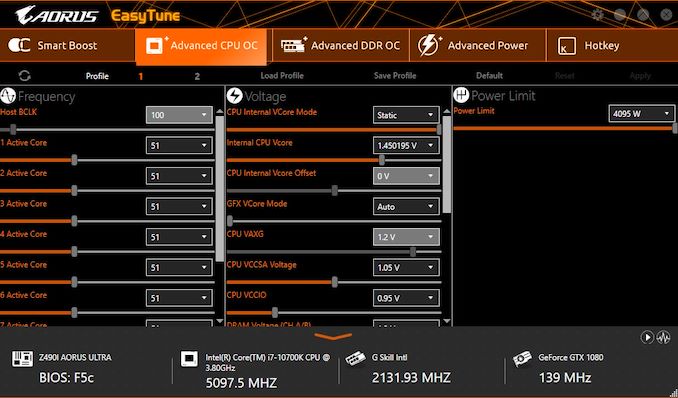 The EasyTune software allows users to perform in operating system overclocks, with plenty of options for changing the CPU frequency, base clock frequency, and related voltage settings. Users can opt to overclock the CPU on a per-core basis in 100 MHz increments, or sync all-cores for more hardened and heat-intensive overclocks. There are also options to change the memory frequency on the fly as well as DDR4 primary latency timings, as well as alter the CPU VCore current protection for users looking to perform big overclocks, although with Comet Lake running hot even at stock settings due to great turbo clock speeds, this is more for the enthusiasts with beefier cooling setups.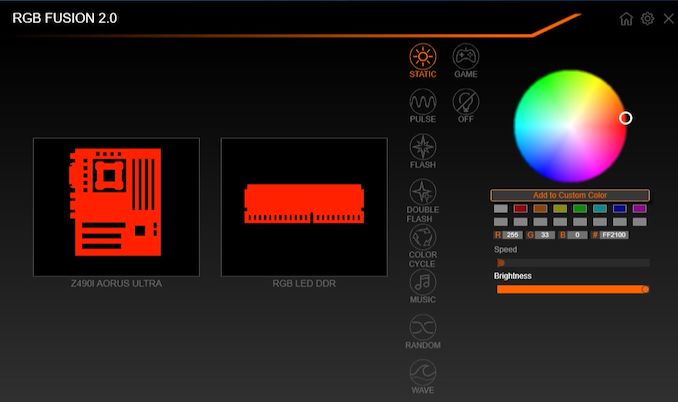 GIGABYTE's software omits any form of audio software, although users can download the Realtek Audio Center direct from the Microsoft store. Users can alter and create disco-inspired light shows with the integrated RGB Fusion 2.0 software, as well as customize additional RGB LED strips which can be purchased separately. Users can even sync compatible RGB memory with the integrated LEDs for a more uniformed look.
Overall the GIGABYTE software package is basic, but it provides extra user experience and offers customization of styling, as well as overclocking. Despite advancements in overclocking software, we still recommend users do all the CPU and memory overclocking within the BIOS.